Jungle Suraksha Vahini
(Forest Protection Force)
In collaboration with BROEDERLIJK  DELEN  of Belgium LAMP has been running a programme of Community Forest Management in 30 villages of Bangriposi Block of Orissa and 50 villages of Bankura,Purulia districts of West Bengal. The villages are mostly tribals, who are children of forests, which need not only conservation, but also development. These work has been entrusted to the local villagers who are also the beneficiaries. The most rewarding aspect of the programme is cultivation of "Tasar"- a kind of non-mulberry silk is the cocoons of the silk are hosted in a particular variety of forest plant, called Arjun. Tasar is a valuable cash crop and the rich harvest goes a long way in supplementing the meagre earnings of the forest dwellers. The villagers especially women, have shown commendable interest in the programmes. They are being given necessary training for the work, through meeting and workshops. The coverage of the host plants is being increased every year. Besides "Tasar" cultivation other components of the programme include re-forestation of waste lands, use of smokeless ovens consume a much smaller quality of fire-wood, raising gardens for herbal medicine plants, prevention of erasion and denudation of forest land etc. Cultutal functions of the tribal people, in which their traditional music songs and dances are played are arranged occassionally. All these naturally have a good impact on the villagers, among whom local leadership is also developing. This would help sustainability of the project.
LAMP also undertakes the community forest management work in all its areas Bankura and Purulia districts of West Bengal, for conservation of environment and strenghthening people's alternative livelyhood.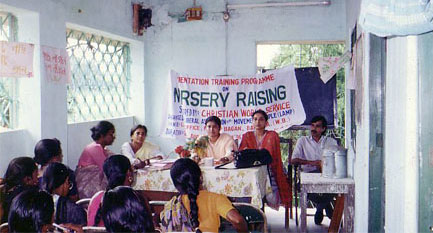 Orientation Training on Nursery Raising for women's employment at Bankura.
COMMUNITY BASED PEOPLE'S ORGANISATIONS :
In order to strengthen the community based people's organisations in the target 30 villages and to promote people's participatory approach in managing the forest and environment by creating awareness and initiating practice and practical means of livelihood with a view to reducing denudation of forest land and at the same time to enrich the forest through proper development, 30 women committees and 30 Youth committees have been formed in each of the target villages.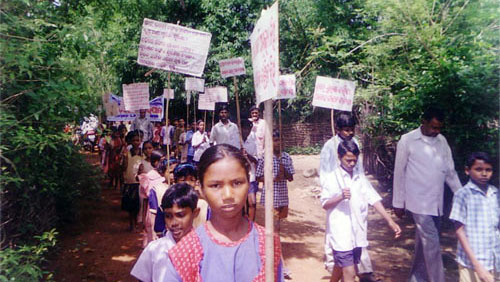 Rally of school students for forest protection at Shyam Sundarpur
IEC MATERIAL DEVELOPMENT AND PUBLICATION :
Experience of the field-staff, village/level volunteers, writers, Artistes and actor/actresses have been incorporated and some "Booklets" on motivation and awareness songs, one-act plays, essays etc. and "Audio-Cassettes" have been published.Moreover, booklets on medicinal plants, mushroom cultivation, various income generating cottage and small scale industries along with entrepreneurship development have been published in Oriya language.
Plantation programme by students at Bangriposi High School
ENVIRONMENTAL AWARENESS CAMP :
In each of the target 30 villages awareness camp on Environmental Conservation and Eco-development has been organised. In these camps the following problems have been identified:
Deforestation and lack of fuel wood;
Many useful medicinal plants and species have become rare in the nearby jungle;
Small wild animals and birds, which are eco-friendly, are decaying;
Change in climate conditions, variation in weather temperature, etc. arising out of deforestation;
Increase of various uncommon diseases;
Degraded land area is increasing day-to-day;
Diminition of the yeilding capacity of soil etc.;
Poverty, illiteracy, lack of awareness, superstitions, lack of poetntial skills which are barriers to adoption of new ideas and eco-friendly income generation activities;
Non-availability of IEC materials in remote rural areas as well as in the locality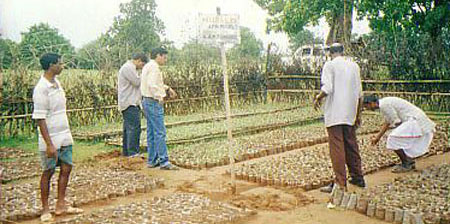 Nursery raising for Social Forestry work at Bangriposi, Orissa
Alternative means of livelihood :
Workshops have been regularly organised on Joint Forest Management system and rights of tribal people over land, water and forests. In these workshops tribal writers and Artists chalked out plan of actions to disseminate informations on the issues among tribal people by developing IEC materials, publishing booklets, performing cultural activities, like dramas, etc.
Workshops  were also organised by mobilising village-level tribal medicinal practitioners where discussion was focussed on both the preventive tribal medicines, naturopathy, and conservation of medicinal plants especially for the endangered species.
For developing training materials on mushroom cultivation a workshop was also organised and potential women and youth village leaders participated in the workshop. A training manual is published in Oriya.
Mushroom has good nutritive value of human food. It has good demand in market and it has export market potentialities too. LAMP, Orissa Sate branch successfully orgnised one mushroom cultivation training programme for the women SHG members, and after training of the members of seven women SHGs under the JFM project area, 200 bottles of seeds were distributed to the passed-out trainees. Most of the women trainees cultivated the mushroom in groups, but due to some unavoidable circumstances the quantity of production was not fully achieved. However, the women self-help groups sold part of their products in the local market and part of their production was consumed by themselves.
Tank excavation work had been started in the month of June, 2003 and now it has been completed. The size of the tank is 100 meters long and 100 meters wide in plot no 670 of Dasmat Hansda at Gahirapal village. During the reporting year, the beneficiaries have earned Rs. 500/- by cultivating fish in this in-completed tank and deposited ths money into their group fund. Under the watershed development programme the activities were done by the local beneficiaries and after the completion the beneficiaries will be benefited in the of water scarcity for the Kharif cultivation. About 25 acres of land will be irrigated through this programme.
Moreover, under the scheme of watershed development, LAMP arranged 2-days training programme on Sabai grass cultivation at Gahirapal on 2.6.03 and at Khadikasole on 3.6.03 . Through this program, LAMP has been successful to make the local people aware that by cultivating sabai grasses cultivable land can be protected against natural erosion and the land holder can earn a considerable amount through Sabai cultivation.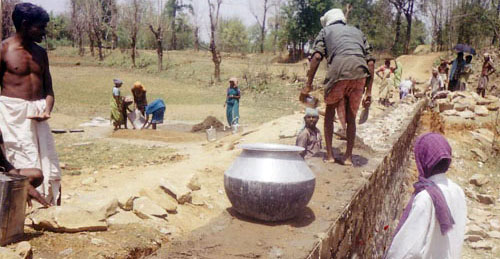 Construction of Watershed at Joka, Mariyuribhanj, Orissa
LAMP has also successfully implemented medicinal plants cultivation programme in several places of Bangriposi Block named Shyamsundarpur, Manda, Pindorgarin Masinovilla, Kaliami and Bangriposi High School, for regenerating the tribal medicinal system.
Arjun trees  plantation have been undertaken in three villages for 'Tasar' cultivation.
Training & Construction of Smokeless Wood stove (Chullah) have been successfully undertaken. Requests for supply of stoves is on the increase as housewives have now realized their usefulness.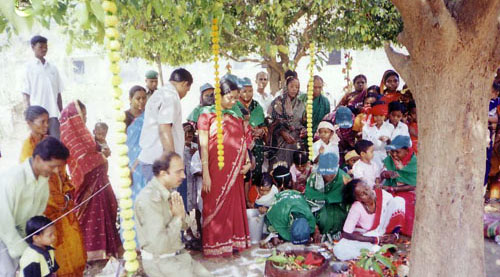 Observation of World Forest Day by following Santal tribal rituals
FORMATION OF WOMEN SELF -HELP GROUPS :
Self-help groups (SHGs) have been also organised in almost all  villages involving  hundreds of women, so far. The Self-help Groups member-women are being trained through regular group meetings by the coordinators. The SHGs are expected to work in a more organised way in the village so that they can attain leadership and give voice to their problems, resentments and aspirations.

Tribal Fair at Bangriposi,Mayurbhanj,Orissa,inaugurated by Shri C.P. Majhi,
former Union Minister of India and Governing Body Member of LAMP,
with Shri Bhado Hansda, Chairman, Mayurbhanj Zilla Parishad, as Chief Guest.
Formation of Network of village youth, women, FPCs :
The impact of project activities and motivational programme have created an environment or atmosphere for self-assessment of village people regarding protection of rights and forest resources from rapid destruction and conservation of forests, medicinal plants, endangered species of plants. All the youth and women groups SHG members and forest protection committee members have been mobilized under an united platform and organised "JANGAL SURAKSHA VAHINI" (JSV) as a network of village level committees in different blocks in Mayurbhanj district. Executive Committee of JSV has been formed under the Chairmanship of Sri Chaitanya Prasad Maji, Sri Shambhunath Behera and Sri Sankar Murmu are the Joint Convenor. Environment Protection Activists and grassroot level peoples organisations of other blocks of Mayurbhanj district like Moradi, Sarisapal, Rairangpur have also come forward to join their hands and enrole them for strengthening the activities of JSV. Under the leadership of JSV Memorandums have been submitted to the Range Officers, District Collector and DFO of the Mayurbhanj District. Protection and conservation of forest resources and establishing the rights of forest-dwellers, tribal and other indigeneous community people over land, water and forests is the principal objective of the JSV.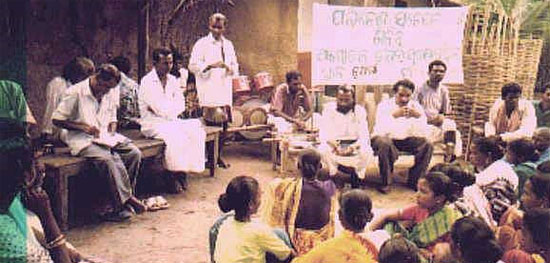 Once the people of the area were very much associated with depletion of forest resources. Now they are protecting the forest resources and finding out way to preserve the forests through JFM. They have together organised the "Jangal Suraksha Vahini" with the active cooperation from LAMP and undertaking programmes for using the forests as means of empowerment and income generation by using the non-timber forest products.
The formation of "Jangal Suraksha Vahini", the network of village local committees is the reflection of aspiration, motivation of the target people for protecting their rights and forest resources.
For socio-economic empowerment of the members of the Forest Protection Committees and Jungle Suraksha Vahini, LAMP has been providing with skill training , demonstration and income generation support . In this connection, women self help groups have been promoted and linked with micro lending facilities.
Mass rally in the villages, block and district level have also been organised for sensitization of local people regarding necessity for protecting forests and natural resources. Seminars at block and district level have been organised. Environment education and awareness programmes have also been successfully organised by involving school authority and students of Bangriposi block. For alternative means of livelihood of the poor people in the forest fringe villages, LAMP extended support to the target groups for sabai grass cultivation, medicinal plants cultivation, mushroom cultivation etc.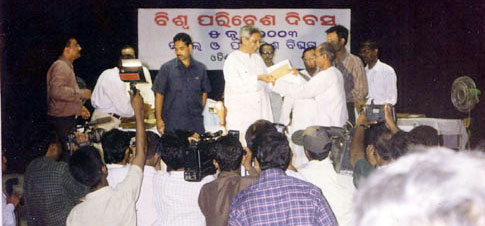 LAMP-Orissa State Unit receives "PRODRUTI MITRA" award from Shri Novin Pattanyak,
Chief Minister of Orissa.
Considering the growing importance of the tribal cultural issues, language and the marketing of products manufactured by tribals LAMP's, Orissa State branch organised one tribal fair at Bangriposi High School ground on 27 th & 28 th February, 2004. Different Government departments, NGOs and school children took part in this fair with their exhibits. Most of the exhibits were shown in the fair, made by the women self-help groups, formed by the LAMP. The high school children presented different modules about the environment protection. In the first half of both the days, resource persons like DFO, Forest Ranger, P.P. DRPA, DWO, Range Officer, Headmaster, Principal of local college & other important personalities delivered their valuable speeches about tribal & forest issues, self-help group formation, different income generation Programme etc. In the second half of both the days, local village people, school children, college student participated in different types of tribal cultural programme, e.g. dance, drama based on tribal & forest issues etc. LAMP's Orissa State unit awarded them as per their performance of different activities (dance, drama etc.) . In this fair, LAMP's women SHG groups sold their products to the people most of the SHG members exchanged their ideas and experiences through visiting each other's exhibition counter.