STD/HIV/AIDS INTERVENTION PROGRAMME AMONG THE COMMERCIAL SEX WORKERS AND THEIR CLIENTS
LAMP has been implementing STD/HIV/AIDS targetted intervention programme in the red light areas of Garia bus stand and Jalpool in Kolkata district, Canning and Ghutiary Shariff of South 24 Parganas District, Tarekeswar, Champadanga and Dayerdhar of Hooghly district of West Bengal state in order to combat the dreaded STD/HIV/AIDS epidemic, since 1998. In all these areas, LAMP gives thrust on two vulnerable groups i.e., Brothel based and floating sex workers and their clients, most of whom are unorganised industiral labourers, rickshaw pullers, transport workers and business men.

Cultural Action Programmes for Awareness Generation about HIV/AIDS
Besides, LAMP has been regularly conducting clinic services in the above mentioned areas through its qualified doctors and para-medical health workers, and providing counseling services to the STD/HIV/AIDS affected people. The LAMP's intervention programme is based on four major components:
Behaviour change communication through IEC materials
Condom promotion
STD care treatment and counseling
Creation of Enabling Environment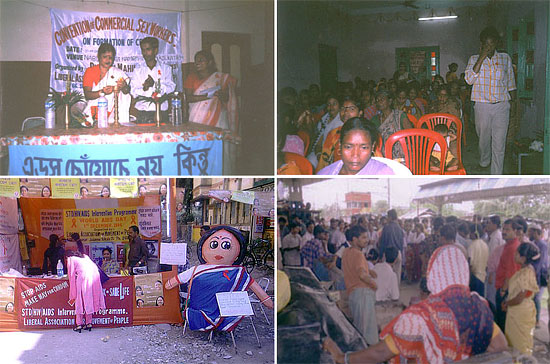 During the reporting year, more than 3500 commercial sex workers and their client groups have been covered by LAMP under this programme.
LAMP has been successful to organize branches of the DISHARI Women's Federation (DWF), among the Commercial Sex Workers of all the red-light areas, which have been functioning under the active leadership of CSWs, in order to ensure gender equality and economic security and human rights of CSWs.

Inauguration of Rabindra Kanan stall by Ms. Gita Sengupta, Chairperson of West Bengal Women Development Undertaking, for celebration of Sonagachir Ek Yug.
REPORT OF LEADERSHIP DEVELOPMENT TRAINING FOR COMMERCIAL SEX WORKERS LEADERS OF WEST BENGAL
INTRODUCTION :
The threat of STD/HIV/AIDS is a global problem. In this project the CSW's ar the key factor. Most of the time they are to face different problems. So it would be necessary to educate themselves in the light of preventive measures such as STD treatment / management, promotion of use of condoms by the clients SHG programme development etc. for their own benefit. Leadership development is necessary among the female sex workers because they are the most helpless victims of HIV/AIDS and other social oppressions.
However, in order to deal with the activities for controlling and prevention of STD/HIV/AIDS in the red light areas at Jalpool, Garia bus stand, Canning and Ghutiary Sharif, the Intervention programmes sponsored by the West Bengal AIDS Prevention and Control Society, has been undertaken by LAMP. Apart from our basic component (awareness programme, counselling, STD identification and treatment and condom promotion) it is felt the urgent necessity of leadership development for the CSWs in order to develop their capacity, decision making and bargaining power.
Thus the leadership development training programme of CSWs was designed and organised by LAMP and DISHARI Mahila Samity jointly.
The following topics were discussed in the training programme:
Women's Rights and struggles for Gender Justice.
Needs for formation of women's action groups for women's empowerment and gender justice.
Role of DISHARI women's groups in organising various action programmes and their capacity building.
Role of CSWs / SHG groups in prevention of HIV / AIDS.
Promotion of SHGs and Methodologies of running thrift savings and Micro Credit programme.
The programme was being implemented in different areas viz. Jalpool, Garia bus stand, Canning, Ghuriary Sharif, Naihati, Basirhat, Amtala, Baruipur, Diamond Harbour, Kalighat, Seth Bagan (DMSC), Lochipur (Asansol), Burdwan, Lakshmikantapur, Kulpi, Chapadanga, Bowbazar, Barabazar, Makaltala, etc. The trainees viz. CSWs and FSWs were invited from the Districts of Calcutta, 24 Parganas (South), 24 Parganas (North), Hooghly , Burdwan, Nadia, Jalpaiguri and Medinipur (Purba). 63 CSWs participated in the training programme actively. Resource persons / experts were present in the programme. Lecture, group discussion, IEC materials distribution, question-answer session, SHG group formation, field observation (USHA co-operative of DMSC and DISHARI women groups, SHGs), Focus group discussion etc. were held.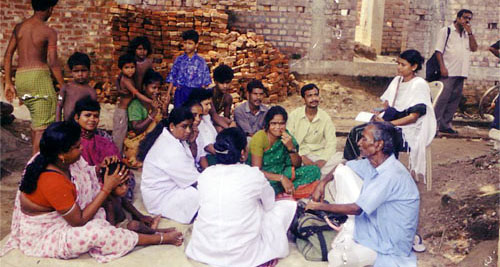 Group Discussion on HIV/AIDS held at Champadanga, Hoogly
LAMP believes that women should be respected by the society whether she was CSW or not and CSWs are found more or less in all countries of the world . As the CSWs are totally alienated from the society, so active cooperation, proper care and support and sympathetic attittude are badly necessary for holistic development and empowerment of the CSWs.
According to LAMP's strategy, community participatory approach is the main way to tackle the large problem in the community and the CSWs should think about their children's education, nutrition, and better environment for development.
Needs of formation of women's action groups among the CSWs is very much necessary for women's empowerment and gender justice. They are the vital part of our society. They should take more responsibility for their own development. Self-Help Groups fromation among the CSWs is absolutely necessary for their development in future, for which their leadership development is very important for their own benefit.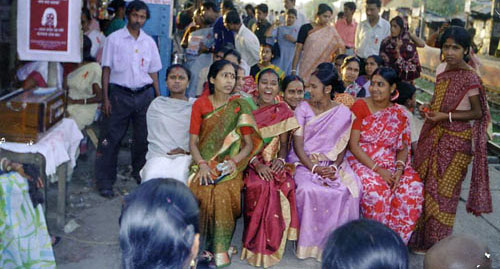 Group Discussion on HIV/AIDS held at Champadanga, Hoogly
In order to develop the leadership of the CSWs through field visits, functioning of the USHA Cooperative of Durbar Mahila Samannaya Committee and Self-Help Groups of the DISHARI -LAMP are exposed to the participants , so that they an gain useful experience from the visits.
LIST OF ABBREVIATION