L
iberal
A
ssociation for
M
ovement of
P
eople
AN APPEAL FOR SOCIAL INVESTMENT TO ACHIEVE WOMEN'S EMPOWERMENT
Poor women of socio-culturally oppressed and economically exploited communities, face severe discrimination everyday. Not only in such discrimination a violation of people's human rights, it is also a significant barrier in overcoming poverty. There is growing awareness that livelihoods and development are human rights and various types of rights-social, civil, political, and economic are interlinked and mutually reinforcing.
As you are aware Liberal association for Movement of People (LAMP )has been working for socio-economic empowerment of the under-priviledged women through formation of Self-Help Groups (SHG) for thrift savings micro-credit programmes. Many of them have already been able to overcome their initial weaknesses and are making their marks in education and health care activities and also in small trades and business. By this they are gradually becoming self-reliant and asserting their position in their families and in the society. To make the Self-Help Groups really effective some organizational skills, including proper investment of fund and marketing facilities for the products is necessary. LAMP along with its women's Network DWF have been engaged in the matter of capacity building of the women of the SHGs and giving the promising ones among them the necessary leadership training. Happily this has started yielding good results.
Briefly speaking, LAMP seek to change this situation and enhance the development impact of thrift savings and micro-credit by:
Strengthening the capacity of SC/ST/OBC Women Self-Help Groups to expand their outreach;
Strengthening of SC/ST/OBC Women Self-Help Groups through improvements in internal systems, better public policies and management practices, and enhanced sector capacities and standards;
Enhancing skills and leadership capacity among poor SC/ST/OBC women to build their own Self-Help Groups and development organisations;
Leveraging greater resources for micro-finance from government and commercial sources, especially banks.
Among the small enterprises, which the concerned women have engaged themselves are poultry, piggery, horticulture, floriculture, making jams, jellies, pickles, ,knitting, embroidery, boutiques on fabrics and leather and also making jute arte-facts. The cherished aim of the women workers is to acquire fuller economic power and also to supplement the family income for proper upbringing of their children.
Now three-tier rural self-administration or PANCHAYETI RAJ system have been introduced in many of the Indian states particularly in West Bengal, this local administration system is quite strong and effective. Many opportunities are now open to the families living below the poverty line. It is estimated that in India about 150 million people still live below the poverty line. The Self-Help Groups are expected to be competent soon to avail themselves of these opportunities and would hopefully play an important role. They would not only be self-reliant, but also self-employed in course of time and would then, if necessary, bring the women-folk with their economic growth schemes for eradication of unemployment and poverty.
Thrift savings and micro-credit have proved to be an important instrument in poverty reduction. Even small amounts of credit can change help women's economic position by enabling them to have more working capital or to buy income generating assets or reduce indebtedness to money lenders who generally charge high interest. Poor women have till no access to the banking facilities in India.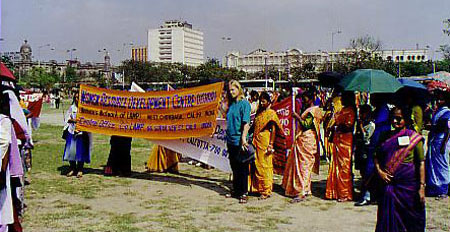 Rally of the Women Resource Development Centre-DISHARI, on 8th March-International Women's Day,
at Kolkata Maidan
Up till now the following areas have been involved in the fields of thrift savings and micro-credit : Kolkata, 24-Parganas (South and North)districts, Burdwan, Bankura, Purulia(all in west Bengal) Mayurbhanj district (Orissa State),Delhi(East and North).The no. of SHGs so far formed is 603. It is planned to extend the activities to Jharkhand state(Singhbhum and Dhanbad districts) and Chhatisgarh state(Bastar and Sarguja districts).
The number of women members currently served by this programme is now 8, 307, most of whom are tribals, dalits (depressed classes) and other backward classes(OBC). Some sex workers and leprosy victims are also included . The idea of LAMP is to cover half a million women members in the coming five years.
For formation of Self-help groups under the Thrift Savings and micro-credit programme a twenty fold decisions have to be adopted by each member of the group, with a view to obtain social and economic solidarity as well as all-round development of the area.
While doing all these, LAMP has been experiencing financial crunch in matter of extending adequate initial support in the form of loan, to all these self-help groups which have already been formed or to be formed in the immediate future so that they may not suffer from lack of fund during the gestation period.
We hope that you would very kindly respond positively to our appeal for the sake of empowerment of the hapless poor women of our country. Awaiting your early favourable response.
With all best wishes and regards.
Yours sincerely
Ms. Shukla Chatterjee
Chief Coordinator,Women and Children Development Programme
And Chairman, DWF