LAMP'S
COMPREHENSIVE HEALTH CARE PROGRAMMES
Reproductive & Child Health(RCH) Programme:
Under the RCH Programme the following services have been successfully introduced and implemented by LAMP in its project areas:
Anti-natal care;
Post-natal and infant care;
Safe delivery & Traditional Birth Attendants (DDAI'S) Training at all levels,
Gynaecological health problems and care ;
A safe-sex life and fear-free of disease;
Special attention on sex education, treatment of STD's, Contraception and pregnancy termination services;
Access to safe, affordable and acceptable methods of family planning;
Information services on RCH;
Husband-wife communication about family planning and contraceptive use.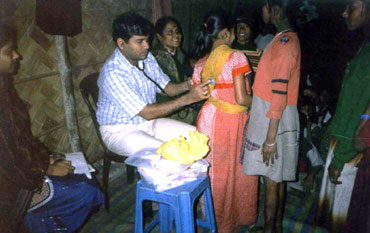 Project Areas: Burdwan, Bankura and 24 Parganas South districts of West Bengal.
No. of beneficiaries: About 18,000 persons.
CANCER Control Programme:
Awareness generation camps on preventive measures of cancer control have been organised by LAMP since 1997. About 45,000 rural and slum people have been covered under the said awareness generation programme. Some cancer detection camps and a CERVICAL CANCER screening clinic have also been organised in collaboration with Chittaranjan National Cancer Institute(CNCI), Kolkata.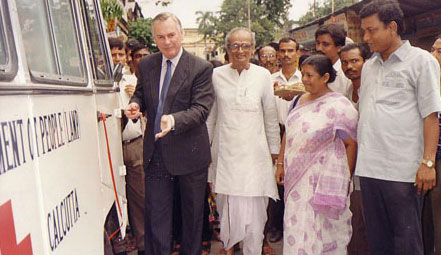 Dr. A.B. N. Morey, Deputy High Commissioner of United Kingdom, Kolkata, is donating an Ambulance for Comprehensive Health Care Programme, LAMP. Along with in the photograph- Prof. Dilip Chakraborty, Ex. M.P. and Former President, LAMP and Smt. Shyamali Gupta, Working President, All India Democratic Women's Association and Shri Malay Dewanji, Hony. General Secretary, LAMP
TUBERCULOSIS Detection and Treatment:
Tuberculosis is also a common disease in the project areas of LAMP. So, LAMP has been regularly organising diagnostic and referral service facilities like DOT method of T.B. and other infections diseases to the affected people. Till today, a number of 918 poor people have been benefited from this programme.
MALARIA Detection, Treatment & Awareness:
Malaria is also a common disease in the project areas of LAMP. So, LAMP has been taking initiative for proper diagnosis, treatment and awareness about the said disease. In this respect, LAMP is regularly organising awareness generation camps in all its targeted areas.