Shishu Jagat-Network of grassroots level organizations
of Children at risk
Children at Risks in Kolkata – their genesis
Children at risks are familiar faces on the pavements and railway tracks and Canal sides of the metropolitan cities of almost all the developing countries. Besides, the Children at risks are the children of Commercial Sex Workers, Leprosy sufferers and HIV/AIDS effected persons etc. and they face major socio-educational, cultural and human problems. It arises from uneven development which leaves out some backward areas, mostly suburban, neglected and ignored. Again in the rural areas – far and near – which constitute the hinterland of the metropolis – there may be some deprived pockets from which also poorer and marginalised people migrate to it in search of food, shelter and work. Kolkata's problem is much more serious and also chronic. n Kolkata has been a cosmopolitan city of India from the days of the British Raj. Poorer people not only from rural Bengal but also from other provinces/states of India trickled into it – some of them attracted by the glitter of the 'second city of the British empire,' for many years. With the independence of India and partition of Bengal in 1947 the trickle snow-balled into a massive influx of refugees from East Bengal, which went to Pakistan(now called Bangladesh). Thousands of destitutes came over to Kolkata and started living in makeshift shanties and in all available vacant public places. Invisible trickles from Bangladesh (formerly East Pakistan) still continues even after fifty seven years of Independence. Moreover, there are migrants from the neighboring countries, e.g. Nepal and Bhutan.
The number of children at risk living in slums (mostly squatters havens) and shanties close to railway tracks, market places and water bodies and more prominently on the pavements, of Calcutta metropolis is approximately 1,00,000. Voluntary organisations running integrated welfare programme for these children have found that they suffer not only from lack of proper shelter, food, clothings and family care, but also from absence of social security against exploitation, like forced or allured labour in exchange of pittance, narcotics – traffics and even sexual abuses, particularly in cases of adolescent girls. Social, psychological and physical harassment of these hapless creatures is a matter of common occurrence. For enabling them to live a meaningful life they need, besides the where-withals of  bare existence, a flow of information on their rights, on the forces that keep them poor and helpless in body and mind and also on the changes which will help them out of their miseries and enjoy a better life. Now they do not even know what future means to them. Perhaps they do not have any dreams even.
Despite efforts of several Non-Govt. Organisations for reaching out elementary educational and health care facilities to these street children, they have little access to development of vocational skill for income generation for their subsistence when they will grow up. They are also in dire need of psychological counselling for changing their behavioural norms and also for breaking their fear psychosis. A sense of moral values has also to be inculcated in them as they grow up to be good citizens.
The glitter of Kolkata's urban life has been inducing the poor rural families, but they find themselves totally disappointed because the city of Kolkata has failed to fulfill their aspirations. However, there was no way of return for those poor families.It should be noted here that Howrah, which is the twin city of Kolkata, situated just on the other side of the river Ganges, also face similar problems of the children at risks. All these have been adding on to the population of the recognised bustees (slums) and the number of dwellers of the unrecognised Jhupries (shanties) – many of whom are ultimately forced to seek shelter on the pavements and the canal-sides and side of railway tracks etc. of Kolkata, with their families. When a family that cannot hold together the children, who are half-fed and half-naked, must necessarily ramble about somewhere.
Shishu Jagat (literal translation in English is Children's World) is the Network of the organizations of the Children at risks. The Vision of this Network is to attain One Free Democratic World in which all Children of the World irrespective of caste, class, creed, religion, nationality, gender will enjoy equal opportunities for developing themselves as full human beings.
With this vision, Shishu Jagat has formulated its mission of empowering Children at risks, the most oppressed and exploited section of the Children community, through their own grassroots level organizations and action programmes. This empowerment process is being undertaken under the leadership of the Children at risks themselves.
Liberal Association for Movement of People(LAMP) , a national level NGO, deeply involved with these above-mentioned groups of children in different cities and rural areas of India, has been successfully initiating and practicing these children's full participation in the form of their leadership to all the decision-making processes related with their integrated development and empowerment.
With this perspective, LAMP has been successful to initiate a project: "House of Hope for Children at risks"(ASHANIRH), which is being implemented by the children at risks themselves for empowerment of 100,000 children at risks of Kolkata to achieve their democratic rights to childhood and comprehensive development through real education, vocational training, food, health and medical care, recreation, information and housing (shelter) by influencing the local Government, Civil society and other organisations.
Some statistics of Children at risks of Calcutta now Kolkata:
Foundation of Calcutta -1690
Calcutta Municipal Corporation set up in -1726
Population Density -23670 persons per sq.kilometer
Sex Ratio of Calcuttans (1991 census) -799 females per 1000 males
Literacy Rate -77%
Number of Children at risks -100,000 plus (53% Boys, 47% Girls)
Categories of Working children
(a) Domestic Workers – 32%
(b) Workers in Unorganised sectors – 21%
(c) Rag-Pickers – 27%
(d) Factory Workers – 6%
(e) Hawkers – 3%
(f) Milk / NewspapersVendors – 2%
(g) Other Occupations – 9%
Monthly Income of Working Street Children: 2-8 EURO (approx)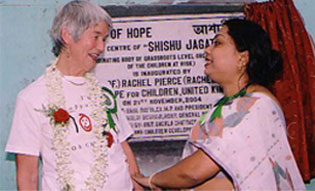 Dr. Rachel Pierce, Chair of the Trustees, Hope for Children, United Kingdom, is inaugurating the "House of Hope for Children at Risks" at 28/1B/1, Bosepukur Road, Kolkata-700042 on 21st November, 2004, in partnership with Ms. Shukla Chatterjee, Chief Coordinator, Women and Children Development Programme, LAMP
Main Activities of Shishu Jagat
Formation of 250 grassroots level Shishu Jagat Units in collaboration with 51 NGOs of Kolkata and Howrah
Formation of 5 Zonal divisions in Kolkata city and one Zonal division in Howrah city for proper coordination and administration of Shishu Jagat programmes under elected leadership of Zonal coordinating NGOs
Organizing NGO, Zonal and Central level sports and cultural programme
Organizing Zonal and Central level leadership training camps
Income Generation through vocational skill development training and production activites through self-help groups and placement services
Running counseling & legal guidance centres
Networking & Advocating on different child rights issues
Publication of wall magazines at every unit level and Shishu Jagat-central newsletter and producing IEC materials
Referral services for deserving girls & women facing moral danger to the night shelter cum short stay home for women and girls at West Chowbaga, Kolkata, run by LAMP.
Shishu Jagat at a Glance
Zone
No. of Participating NGOs
Name & Address of
Zonal co-ordinating body
Units Covered
No. of children covered as on 30th Sept. 2004
South
11

Centre for Social Development
11 Narkel Bagan Rd., Kolkata-32
Ph.No-24123640

46
1920
North
7
OFFER
Flat 2-6 First floor, 152, B.T. Road
Dunlop Bridge, Kolkata-108
Ph.No-25780810
61
1483
East
4
United Basti Development Association,
4k,Tiljala Rd., Kolkata-46
9433079313
17
699
West
10
Mayur Bhanj Joint Citizen Centre.
4 No, Mayur Bhanj Road, Kolkata-23
Ph: 2449-5446
63
2063
Central
5
Gana Unnayan Parshad
10 Gomesh Lane , kolkata-14
Ph: 2237-9594
27
831
Howrah
1
Youth Welfare & Cultural Society
Gopal Lal Chowdhury Lane
Howrah-711104
Ph: 31032862
5
130